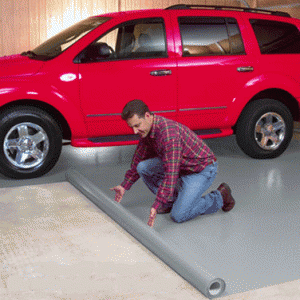 These benefits include the easy installation, easy cleaning, perfect for hiding stains, noise reduction, and much more.
Garage floor systems are super easy to install. Most mats you only need to throw them down on the ground and they are the way they need to be. There are snap together tiles that are as easy as when you put a puzzle together as a kid, except with these tiles every piece fits just right. All you have to do is snap the pieces together. You do not need to use any type of adhesive to secure a flooring to the cement. Some systems can take as little as an hour to have installed in the garage and be ready to use. You can never go wrong when you use a system designed to protect the garage.
Another benefit of a garage floor system is that many people like to use them to hide stains and cracks. If you bought an older home and the previous homeowner didn't take care of the garage the way that they should have you can make the garage floor look new again by installing a new covering. There are so many to choose from but you can even just buy a mat. Any type of covering can give your garage a new look and make something that you can be proud of.
Cleaning has to occur so you do not have bugs and so there are not problems in the future. The good news is that almost all garage floor systems that you can purchase for protecting the floor is as easy to move out of the way or pull up temporarily for cleaning as it is to install. You can pull them out, clean, and return them quickly.
Noise reduction is another benefit when you use garage floor systems. Cement seems to carry an echo in the garage that can be irritating when you are using machinery that is noisy. When you put in a thick or padded coating on the floor like a mat or even a paint on solution it reduces the amount of noise that you have in the garage.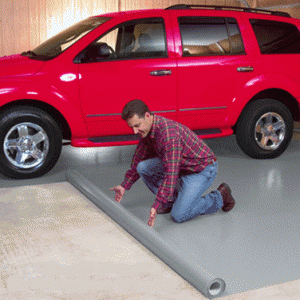 You can choose from different patterns, full size, partial, and much more. Your garage is your domain so you need to choose the mat that will work best for your needs.
If you work on cars and you are looking for a garage floor covering solution that fits perfectly underneath a car but not all over the entire garage floor then you can find smaller mats. These mats are designed to protect just under the vehicle only. This way, you can change the oil of the car and not have to worry about spilling oil all over the floor and having it stain the cement beneath the car. These mats work nicely. In addition to protecting the cement from stains, cracks, and chips but they also are comfortable for you to lay on. If you are under a car often on the ground then the cement can be very uncomfortable because of how hard it is. Many of the garage floor covering mats are thick which provide a cushion for your body.
You can also choose garage floor covering mats that can cover the entire surface area of your garage. Some men love the look and feel of a professional garage. If you are a mechanic or you spend a lot of time working on projects in your garage then you might consider this type of solution. Covering the entire floor can protect the cement for many years against weathering, staining, chips and cracks, and other issues that can arise with concrete.
There are many different types of garage floor covering solutions that you can choose from if you are redoing your floor. The different options you might consider include mats with patterns on them like diamond grates, clear coatings, grains, and even checkers. You can choose from mats that lay flat on the cement, click together tiles, or even solutions that you paint on the floor as protectants. All of these different solutions work to protect the garage floor and they can change the entire look and feel of a garage and make you look like you know what you are doing.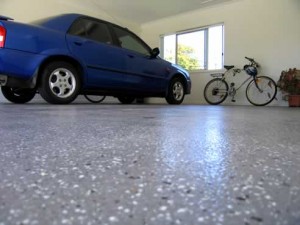 There are many different types of garage floor coating that you might consider if you are thinking of renovating the garage or creating a work space that is right for you. Many men like to choose from things like epoxy, snap together tiles, and paint on coatings. These are all excellent choices for protecting the floor and very low cost.
One very common method of resurfacing the floor of a garage is by using snap together garage floor coating. These are like tiles. They can come in plain colors or even black and white checkers. You can usually choose from different variations. All you have to do with these is lay them on the ground and snap each piece together like a puzzle. An installation of a garage floor can be as quickly as one hour. This is how simple they are to lay on the floor. These tiles provide excellent protection, a great new look, and are not as hard as concrete.
Another consideration for a garage floor coating is to stamp and stain the floor. You don't have to do much at all. You can have designs of your choice stamped into the floor. Cement can be colored in different variations by staining it. Cement actually holds color quite well and your garage floor can have the appearance of marble or granite. This can not only give the garage a new look but even the wife will love it.
Epoxy garage floor coating is a common protector that you can paint on the floor. This will protect the cement from cracks and chips. In addition, you can have a glossy finish on the cement which will make it look really nice. This type of coating is easy to use and all you have to do is paint it on. This can be put on the floor easily but you cannot walk around on it until it is dried. Unlike tiles, you do have to wait a certain time period before you can walk on it.
There are many different types of garage floor coating solutions that you might consider if you are reconstructing your garage or you want to give it a new look. You can protect the floor with many things like snap together tiles, paint on epoxies, and you can even just give the floor a new look by staining it.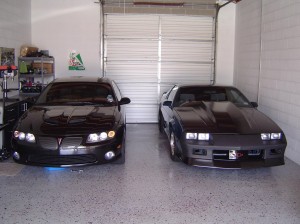 There are many benefits of garage coating that you might consider if you would like to fix up your garage. These benefits include increasing the longevity of your floor, improving the appearance, and having a floor that you are proud of.
A garage coating makes a garage look entirely different. You can change your plain old cement to a classy and glossy finished cement quickly and easily. When you use a coating on the cement the look and feel of the garage is something entirely new. The appearance looks much better and it is actually a room that you want to work in. Many men actually feel empowered when they make their garage look like a professional mechanics garage by coating the cement.
A garage coating is protection that ensures the cement will last for many years to come. This type of coating prevents cracks and problems with the cement that might occur due to moisture and other issues that are normal wear and tear. If you drop your tools on the cement or if you drop something heavy that chips the floor it can make the floor look really bad. When you coat the floor with something like epoxy it prevents chips and cracks. This means that you can increase the longevity of the floor by many years because chips and cracks will be prevented.
Cement doesn't feel right on your feet also. A garage coating can actually make a really big difference with the way the floor feels when you are standing on it. Not only can you have a high gloss floor but you can have a softer textured floor that is more comfortable to walk on. It collects less debris and it is also easier to keep clean. If your tires get hot they also will not burn the coating off or melt it.
There are many benefits of using garage coating on your floor. Many men dream of having a professional mechanic floor in their garage by coating it and giving it a high gloss shine. Even though you do completely change the look of the floor you are also protecting it from damage which increases the longevity for many years.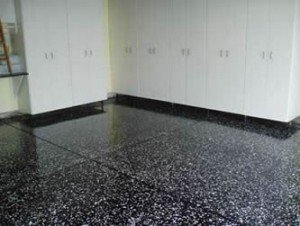 If you have been talking about finish floor garage coatings for some time but you haven't gotten around to it then you should give it some serious thought. Finishing your garage may help you get around to some old projects, change the look and feel of your garage, make you feel good, and much more.
Most men dream of finishing their garage floor as a professional garage should look. They often start projects and never finish them leaving the garage looking like a pit. If you are one of those men that has dreamed about finishing the floor but you have never gotten around to it then now is the time. You can use finish floor garage coatings that are very affordable and worth every penny. Your floor can look like a million bucks and make you feel great. You can have the garage you have always wanted simply by using epoxy coating.
When you finish your garage with finish floor coatings, not only will it be shiny and very classy looking but you can be sure that you will have the motivation that you have been lacking to finish up on your old projects. You will clean up the mess in the garage because you will have a floor that you want to show off and that you are proud of.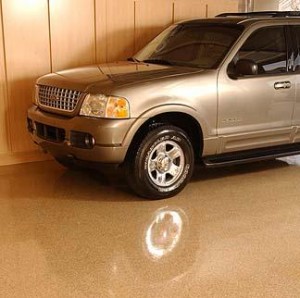 Finish floor coatings are the best solution because they are durable and built to last. The great thing is that you want to protect the cement in your garage from wear and tear. You want to eliminate and prevent cracks and chips in the cement because it will give the floor more longevity and look very nice.
It is a great feeling for any man to finally finish floor garage projects and when you use epoxy coating you will be very pleased. The pride of a finished floor in a garage is something most men love to boast and show off. They are proud to show their friends their garage and the beautiful floor they have. Every man wants to finish the floor in their garage because it gives them a nice workspace and protects the cement.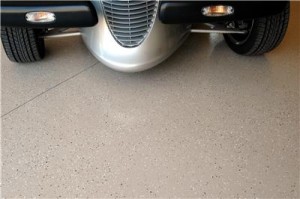 This is the floor covering that most men are looking for. This type of coating is tough, glossy, doesn't leave residue, no odor, and much more.
Most men dream of refinishing the floor of their garage but they never get around to it or they think it is too expensive. When you use epoxy garage floor coatings to finish the floor of your garage you can be sure you have a glossy and very nice looking coat. The semi gloss shines nicely and even with the car pulling in and out and walking around, it will continue to maintain the nice shine.
The great thing about epoxy garage floor coatings is that they are durable and tough. This means that if you drop tools on the floor, drag a tool box across it, and do other rough things you will not destroy or be required to recoat it. This is a very good solution to finishing the garage floor.
It is common for some epoxy garage floor coatings to leave residue behind when hot tires sit on a floor coating for a long period of time. The tires will pick up parts of the floor and take it with them when the car drives out of the garage. This can look absolutely terrible. The great thing about epoxy coatings is that they will not pick up from heat transfer of the tires from your car. This means that the durability and toughness is built to last for a long time. Any garage floor is built to last.
Another benefit of using epoxy garage floor coatings on your garage floor is that you don't have to worry about a bad odor lingering in the garage for a long time. This type of coating has no odor and there is nothing to leave around. You won't have to leave the garage for periods of time while you are installing it so you can get some fresh air. The coatings have a very low odor which is easy to deal with and will not be hard to withstand in the garage.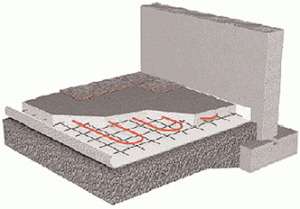 If you have a high heating bill or you are looking for ways to save then you might consider concrete floor heat as your solution. Heating solutions under concrete is very useful and it provides benefits such as low energy costs, comfort, clean air, and it is quiet.
Concrete floor heat is just another way that you can heat your home while using low energy solutions. This type of heating provides an excellent way to heat any room with concrete flooring inside of the home and it doesn't use as much energy as an electric heating solution or the cost to burn wood. You can do your part by using less energy and saving the earth when you use a system like radiant floor heating.
Many people install concrete on their floors because of the beauty that is can provide at such a low cost. Concrete can look almost exactly like marble when it is stained in such a way. The only negative factor is that it can be extremely cold in the winter. When you install concrete floor heat you have total comfort because in the winter the flooring will be cozy to walk on rather than chilling to the bone. You won't be required to walk around in slippers either.
Healthy air is what concrete floor heat is all about when you install it inside of a home. Many people that use wood burning stoves or a fireplace cannot escape the fumes that come into the home from their fires. No matter how far away you are from the heat source you will still be breathing in some of the fumes. Radiant heat under concrete maintains a healthy atmosphere without emitting carbon monoxide into the air because nothing is burning. The entire home can be warm and healthy at the same time.
Another factor about concrete floor heat is that you cannot hear when it turns on and off. When an electric heat source is on in the home it may be loud and hard to hear over. You might need to turn up the television to hear over the heater. Fireplaces and stoves also make loud crackling noises when burning. A radiant floor system under concrete is silent and you cannot hear the heat source at all.