Outdoor Pavers to Make Your House Look Really Lavish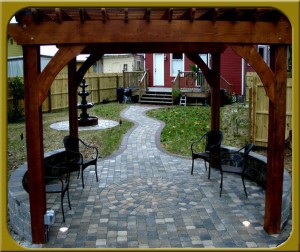 In the times gone by, it was important to have a good lawn, all green and properly mowed to add up to the beauty of your house. As the times have certainly changed now, there is less time to devote in developing a lush green lawn owing to the hectic lifestyles that everyone has these days. Moreover, if left neglected, the shabby lawn will have a negative impact on the entire appearance of the house. So, what to do in such a case?
Also, there may be times when you wish to add that special spark in the exterior décor of your abode, without taking much pains and yet desiring an exotic appeal. You may also wish to change the exterior looks of your house being bored with the same old driveway or pathway. In fact, you may wonder how to equalize the effects of both the areas receiving good amount of sunlight and steady shade at the same time? The easy solution is the outside pavers that can not only free you from these dilemmas but can also make your house look really pretty and nice.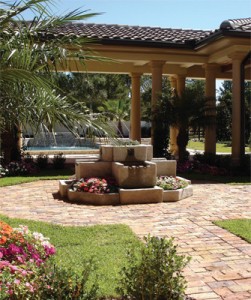 These days, there is a great variety of outdoor pavers to make a pick from both in the physical markets and online. These options include clay pavers, house bricks, slate, timber, and split or cut stone, concrete blocks and terracotta or ceramic tiles. If you are looking for yet different a style, you may also consider pebbles, bark chippings or loose gravel as alternatives to conventional ideas. Gravels are quite affordable and cheap options but can be slightly tough for the feet to adjust with it. Loose stones though look awesome, but they can be really expensive, so it is better you get just a few of them to smarten the look and as a feature alone.
The outside pavers are usually laid over sand bases and natural stones and tiles over concrete bases. If you have an area like vinyl patio or unsightly concrete, then you may go for the paving paint as well. Requiring area sealing, slip resistant substance coating and subsequent painting, paving paints help to get a spectacular look for the outdoor pavers.
Some valuable tips relating to outside pavers:
•    If you have a small area, try using big outside pavers to create an illusion of larger area. Slight level changes can make small gardens appear bigger.
•    To create an aged look, tip some yogurt or milk over the outside pavers, garden ornaments and concrete. Soon, lichens and moss will begin growing over them giving your house exteriors a great look.
•    Never try the aged look over glazed tiles because they are very slippery.
•    If you want to break larger area, plant some if the mondo-grass around the outside pavers. You may also use low shrubs or circular pots to create a newer look.
•    Match the colors of the pavers with the one used in the house.
•    You can achieve varied looks by placing the bricks in straight lines, circular or radial patterns.
So, get going now and titivate the appeal of your house with the enchanting outside pavers.