Types of Garage Floor Coating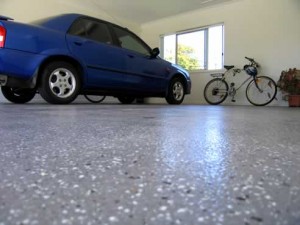 There are many different types of garage floor coating that you might consider if you are thinking of renovating the garage or creating a work space that is right for you. Many men like to choose from things like epoxy, snap together tiles, and paint on coatings. These are all excellent choices for protecting the floor and very low cost.
One very common method of resurfacing the floor of a garage is by using snap together garage floor coating. These are like tiles. They can come in plain colors or even black and white checkers. You can usually choose from different variations. All you have to do with these is lay them on the ground and snap each piece together like a puzzle. An installation of a garage floor can be as quickly as one hour. This is how simple they are to lay on the floor. These tiles provide excellent protection, a great new look, and are not as hard as concrete.
Another consideration for a garage floor coating is to stamp and stain the floor. You don't have to do much at all. You can have designs of your choice stamped into the floor. Cement can be colored in different variations by staining it. Cement actually holds color quite well and your garage floor can have the appearance of marble or granite. This can not only give the garage a new look but even the wife will love it.
Epoxy garage floor coating is a common protector that you can paint on the floor. This will protect the cement from cracks and chips. In addition, you can have a glossy finish on the cement which will make it look really nice. This type of coating is easy to use and all you have to do is paint it on. This can be put on the floor easily but you cannot walk around on it until it is dried. Unlike tiles, you do have to wait a certain time period before you can walk on it.
There are many different types of garage floor coating solutions that you might consider if you are reconstructing your garage or you want to give it a new look. You can protect the floor with many things like snap together tiles, paint on epoxies, and you can even just give the floor a new look by staining it.