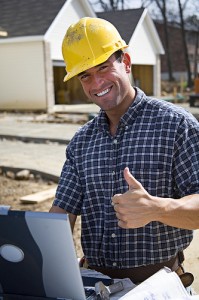 If you are repairing your own concrete slabs or issues at home at your residence then you might want a few tips of advice from some professional foundation repair contractors. Here are a few things that might help you troubleshoot issues that you come across during your repair process.
If you come across a situation where the ground isn't pumping inside of the hole or is just squirts right back out there is a fix. Foundation repair contractors recommend that you actually blow out the hole and force air inside of it. You can also drill deeper into the sub base of the concrete slab. This should fix the problem of the grout not pumping inside of the hole. It is common to have to drill the hole deeper.
It is common to see that new cracks are forming when you are trying to repair concrete. You also might see the older cracks getting larger during the process. Foundation repair contractors see this issue regularly. When this type of thing occurs you want to look at the technique you are using. You might be pumping too much grout into the hole or be using grout that is not soft enough. It is also common for someone to be pumping grout into holes in the wrong sequential order. Keep in mind that when you pump grout into a hole you should not lift a slab more than an inch high.
Another common problem that foundation repair contractors find is that the concrete slabs bind against the concrete and it will not rise from the ground. When this occurs the grout could be actually going under another slab that is adjoining the one you are working on. This means you need to use a thicker grout. Binding can be relieved by chipping the edge of the concrete slab or sawing entirely through the slab. Always ensure the cracks of the concrete are clean before you get started pumping the grout into the holes.
Foundation repair contractors come across many issues when they are repairing concrete. If you are repairing cracks and holes on your own and come across problems that you need to troubleshoot, use these tips to help you get through them for the best repair.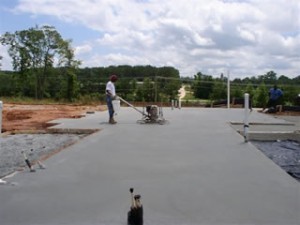 Slabjacking has many advantages, which is why many foundation repair companies practice this method. It is best used on slabs of concrete that are smaller jobs. Many of the advantages that companies find include noise reduction, weather, no damage to grass and lawns, and much more.
Foundation repair companies don't want to have any damage to a property when they repair a slab of concrete. Slabjacking is the best method when a small slab of concrete needs to be repaired and there is landscaping that needs to remain untouched. When slabjacking is performed there won't be any damages at all to surrounding grass or landscaping. The surrounding grass will not be dug up at all. You won't be required to reseed or wait for new grass to grow in the area where the slabs are repaired.
Many things that homeowners like about using foundation repair companies that practice slabjacking is that this method is not noisy and irritating. Many homeowner's associations prefer a minimal amount of noise associated with their foundation repair. This technique is not noisy with loud concrete slabs breaking. The dust and debris is kept to a minimal also. This makes the technique not only peaceful but not as messy.
Slabjacking is a method that foundation repair companies can perform in any kind of weather condition. You might find that some companies have to schedule on a nice day and if it is raining they will reschedule your appointment. When you hire someone that uses slabjacking then you can be sure the job is going to get done no matter what the weather conditions are.
There are many reasons that foundation repair companies practice slabjacking as a solution to fix slabs of concrete. This is because this method of repair has many advantages that you should consider. The technique is a quiet method, it can be performed in any weather condition, and it doesn't require tearing up your landscaping. This is a preferred method of repair and when you are looking for a contractor to repair your concrete you might want to ask them if they use slabjacking as a method.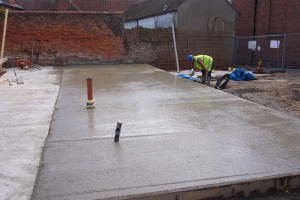 Before you choose a method for foundation repair you really need to determine what the cause of the distress is. There are two common types of foundation repair which include slabjacking and piering. Both methods are best for different causes.
In order to determine the cause of the damage, you will need to thoroughly examine the moldings, mortar joints in the brick veneer, trim boards, and the windows in low lying areas. In these places you should be able to find clues to the cause. Recent weather conditions should be noted also. If you have had inclement weather that is severely wet or dry it can cause changes or problems with the soil also. This is how you will determine the foundation repair that you will need to use.
One very common method of repairing small slabs of concrete is called slabjacking. The smaller slabs that are sunken concrete almost always use slabjacking. Small slabs are commonly found in residents, sidewalks, driveways, and the decks of swimming pools. When a contractor practices slabjacking he or she will pump cement grout into the holes of a concrete slab. The ground will solidify into a mass that will act as a bearing for the slab. Some contractors will choose to use a soil cement lime grout to stabilize the base, which will restore the slab to proper grade and repair the soil. This will help prevent future occurrences from happening.
When foundation repair consists of larger issues in the concrete then piering is required to fix the problem and stabilize the foundation. Piering is a method used with large commercial buildings or residents where the foundation has shifted. Piering actually lifts and stabilizes the entire foundation. Mechanical jacks are used to lift the beam to grade and held to elevation by a spread footing and a pier. The footing will then be set deep so it is not dependent on the soil and moisture will not cause any further problems.
There are two common types of foundation repair that you might consider which include piering and slabjacking. Before you make a decision on the type of repair you will use it is important to figure out what the cause of the problem is so you can prevent future occurrences.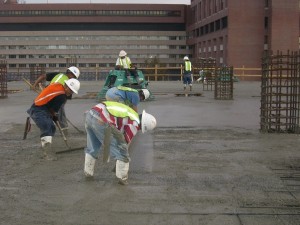 If you are looking for a Florida concrete construction company there are many things to look for so you can ensure you choose the safest contractor. Be sure that every worker that comes to your home is licensed, the company is credible, and they have a portfolio that is appealing to you.
One of the most common way that people are robbed is when they have contractors come in or to their home and then one of them returns and steals your belongings. When you hire a Florida concrete construction business to pave a driveway, install flooring or counters the workers will begin to learn your schedule when you are home and away. This can be dangerous if you hire the wrong company and essentially make you a target for burglary. The best thing that you can do is ensure that every worker that comes to your home is certified, a legal citizen, and someone you can trust. Don't trust a company that hires additional help in the form of illegal citizens and people that are not certified. Your safety is the most important thing.
A company must be credible before you consider giving them a job at your place of residence. You want to be safe and you also want your belongings to be safe also. You can verify credibility of a business by checking with the Better Business Bureau to confirm there aren't any complaints lodged against them. It is up to you to decide if you think complaints that are lodged against a company are valid or not. Also, the length of time the Florida concrete construction company has been registered with the Better Business Bureau is another factor you need to consider.
When you are deciding on which Florida concrete construction company to choose be sure you ask to view a portfolio. This way you can determine which business provides the better service that you are asking for. Some companies provide better work on the interior or exterior. Look at a portfolio and see which style and work you like the best. A portfolio will also show you that the company does have experience providing the services you are asking for.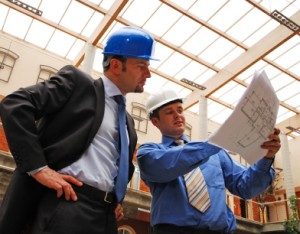 If you are thinking about redoing the driveway or a new concrete patio then your best option is to hire professional concrete contractors to do the job. They can provide professional looking work, artistic work, and in most cases their work will be guaranteed for a period of time.
Concrete contractors are skilled artisans or applicators. They can provide samples of the work they have done in the past through a portfolio. This will give you an idea of their style and the work they prefer to do. Keep in mind that if a contractor primarily focuses on interior work then you may not want them to do work outside for you. Find someone that is skilled in the type of job that you want to have done.
Not all concrete contractors install concrete flooring using the same approach. Some installers may apply stains to slabs that have already been cured for 60 days. It is also common for a contractor to apply staining a few days upon casting. They will use extra care when installing the slabs to ensure no damage occurs to the concrete.
Some concrete contractors and professional companies only allowed skilled but certified technicians to stamp patterns and use the color hardeners. This might be a good choice to verify which companies have certified installers. Having a certified installer not only gives you a good feeling about the job being done but it ensures that you can trust the company.
Work that is guaranteed is another reason to hire professional concrete installers that are certified. This can provide assurance in knowing that the work is guaranteed. If you have a chip in the concrete or a crack that needs repair then the contractor will come to your home and repair the broken concrete. The last thing that you want to happen is to hire someone that is not certified and find they will not give you a guarantee or come back and repair problematic concrete. It could become unsightly quickly and become an eyesore. A bad installation of concrete could become more expensive to repair than it would cost you if you had done it right the first time by hiring a professional.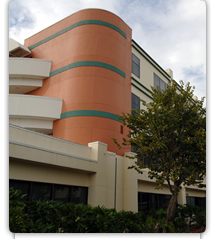 If you are thinking about concrete construction in Florida for your exterior flooring needs then you are making an excellent decision. Concrete is the most durable of any flooring solution out there. It can be treated and customized so it looks absolutely amazing in front of your home or even in the basement. There are many different methods to provide decorative surfaces with concrete. Here are a few.
One very popular method of concrete construction Florida is chemical staining. This method uses special stains that work to react with the lime content in concrete. They are formulated specially for concrete to have a chemical reaction. These stains are used to etch and bond colors into the surface of the concrete. The good thing about staining concrete is that old or new concrete can be stained. There is one downside to this method which is that the color results are not always predictable because each slab may have a different amount of lime, texture, weathering, and even exposure to other chemicals. This can mean that one slab might have very rich tones of color that look like granite or marble while others are not so colorful. A very skilled artisan can provide the most beautiful staining of concrete that makes your driveway look like marble.
Scoring is very common with concrete construction Florida also. Scoring is the technique used to etch or make shallow cuts in the concrete to give the look of tiles or geometric designs. A masonry may choose to use circular saws or abrasive masonry blades to make the patterns in the concrete.
Concrete construction Florida can also be colored. Many people favor colored concrete to put in their front walkway or even in the backyard around the patio area. Coloring is easy because the colors will be added to the concrete when the concrete is being mixed. It is hard to mess up the color variations or the amount because of this, which helps provide a more consistent color in every slab. There are some places that you can purchase pre colored concrete so you don't have to worry about mixing it yourself.