Benefits of Radiant Flooring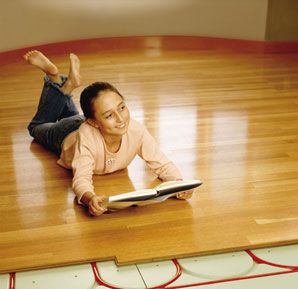 There are many benefits of radiant flooring that you might consider if you are looking for some type of heat source for a new construction. Radiant heating is a new heat source that is becoming very popular.
Radiant flooring has been around in Europe for many years. This type of heat source is installed beneath the surface of the floor and it can be installed inside or even below concrete walkways and driveways. This heating solution is unique in a way like no other because the heat that radiates from the floor finds the coldest areas first to provide warmth too. These areas may be objects in the room too. You might have a vinyl or leather couch that is freezing in the winter. The radiant flooring will ensure that it is nice and cozy when you use it.
Radiant flooring is very efficient and it takes very little time for a room to become warm and cozy. As a matter of fact, this type of heating solution only takes half the amount of time it would take for a fireplace or electric heater to provide comfort. The comfort levels are different with electric push air solutions because it is more consistent. Radiant heating provides heat throughout the entire area and there is never a cold spot in the room. Electric push air heaters always have a cold spot and most people in the home might be fighting for the warm place to get cozy. The warmth is evenly distributed so everything is cozy, including the entire floor.
The great thing about floor heating is that it is very cost effective in the long run because you save money in many ways. You will have very low electric bills because this solution doesn't work hard to maintain a temperature in the room. It can bring the room to the desired temperature quickly and it is easy for the temperature to remain at that level also. You can claim this type of heating solution on your taxes and get a better return and you don't have to hire someone to come out to install, maintain, or even repair it when it breaks.