Should You Install Radiant Floor Heating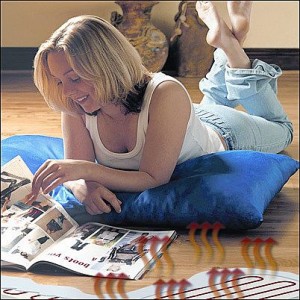 There are many signs that might tell you it is time to install floor heating in your home. These might be high electric bills in the winter, an uncomfortable home, lack of efficiency with the heat source you currently use, and more.
If you have really high electric bills during the winter months you might consider the option to install radiant floor heating. You don't have to put in a new floor to have this type of heat source installed in your home. Many people think they are stuck with the heating option they have when they buy a home. This is not the case. It is very easy to put in a radiant heating solution in your home. It would surprise you. Electric bills are often outrageous for many people because their homes may not be properly insulated or their heat source is just not that efficient. The great thing about radiant heating is that it is the most reliable and efficient method of heating you can provide in your home. It works quickly by warming an area which means that it doesn't work as hard as a traditional electric heat source. Warmth is spread throughout the home evenly and the warmth remains in the home for longer periods of time. This means your electric bills may virtually be cut in half when you use this type of heat source.
An uncomfortable home in the winter is frustrating. You might be one of those people that lies in bed in the morning dreading to touch your feet to the chilling floor. It may be the worst way to start every day. This causes your home to be an uncomfortable place, especially if you have to bundle up in socks and slippers that you don't like wearing just to avoid the cold flooring. When you install radiant floor heating, your feet will never touch an ice cold floor again because the floors will be warm and comfortable.
If you have high electric bills or you hate having a freezing home in the winter every morning then you might consider the option to install radiant floor heating in your home. This is an excellent idea because it is the most efficient method of heat you can provide to your home and it is the lowest cost. You will absorb the cost of installation after just a few months of electric bills.