Popular Aspects Of Patio Pavers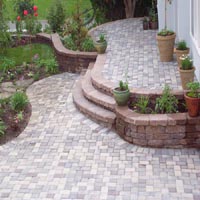 Patios are constructed so as to decorate the outdoors of residence or office areas. Patios pavers are basically made of paving stones prepared by using different materials so as to create a colorful and elegant design at the outdoor of your home or office.
There are several benefits of patio pavers, such as durability, affordability, easy to repair, potency, maintenance free, aesthetics, easy installation, flexibility and fast serviceability. These pavers can be utilized in the preparation of entertainment decks and outdoor patios.
Paver products are manufactured in three main types of raw materials which can be utilized as patio pavers. Brick pavers made of clay, concrete pavers made of concrete and stone pavers manufactured with natural stones, such as sandstone and granite. You can consider a number of designs and patterns during the selection and installation of your favorite patio pavers that include:
Herringbone- This is one of the most popular and formal patterns of patios pavers. It includes a zigzag design which can be ideal to hide irregular outdoor areas.
Running bond- This is one of the simple looking but versatile patio pavers patterns and is commonly used in small areas. In this design, pavers are laid so as to get a curved design.
Basket weave- This pattern is widely used in casual applications. You can use this pattern independently or can opt for mixing another pattern during installation of this pattern. In this design, the pavers are basically laid in pairs in a horizontal as well as in vertical manner.
Circle Design- This is one of the popular yet difficult to install patterns. In this design, pavers are laid in a curved manner and that is why this pattern is considered a difficult to install pattern.
Fan design- This pattern is applied on driveways and walkways. It includes bringing up a design of gentle arches on a particular area.
Random design- In this design four varied sizes of pavers are used for one design so as to create a bold and dynamic effect. Driveways and walkways are the main areas where these designs are mostly applied.
Mixed design- In this pattern, four different pavers having different sizes are utilized for making borders, fan design and circle design.
Patio pavers are now made available in different colors, such as chocolate brown, sandy gold, terracotta, dusty grey, rust, white pewter, chestnut red and forest green. Another alluring aspect of the patio pavers is that they are available in different shapes as well, such as octagon, triangles, half circles, circles, zigzags, irregular, diamonds, keyholes, hexagon, fans, two shape combos, square and rectangle.
Buyers are advised to take special care of the design, style, comfort and safety issues so as to ensure a durable patio surface. Patio pavers have a non slip surface on which you can comfortably stroll. The classy and periodic look of the patio pavers is the main factor that fascinates a number of home makers as well as industrialists to choose it for beautifying their outdoor areas.