Benefits of In Floor Radiant Heat for the Driveway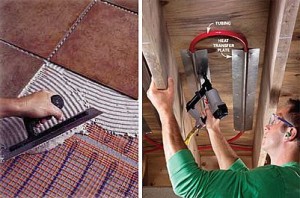 If you live somewhere you get a lot of snow and ice it may be a problem for you just getting out of the driveway. Many people that live in the mountains that have a steep driveway often find they are snowed in at some point in time during the winter months. When you install an in floor radiant heat system under the concrete of your driveway you will never have this problem again.
The great thing about an in floor radiant heat driveway option is that they are very easy to install. This type of system is low cost and will not break you at the bank. If you pay a lot of money for people to come and plow your driveway during the winter months or if you spend many hours shoveling then you will absorb the costs of this type of system quickly. If you miss work because you are snowed in then it will be well worth it not to have to use your vacation or sick pay because you are snowed in and cannot come in to work.
The snow and ice can be frustrating. More people get stuck in their own driveways than they do on other streets. This is common because so many driveways in the mountains are steep and curvy. It is common for the snow to turn to ice quickly and cause a vehicle to get stuck. There is nothing like the frustration of being stuck in your own driveway. When you install an in floor radiant heat in your driveway you will find that you will never have this problem ever again.
An in floor radiant heat system with the driveway will warm up quickly. All you have to do is turn the system on when it begins to snow. You can watch the snow melt as it falls on the driveway. You will never have snow, sleet, or ice build up again in your path to get to work from your home. Your driveway will never need to be plowed or shoveled again either. This is a big benefit knowing that you will make it out of the driveway and to work on time when the snow falls hard during the winter months this year.