Concrete Patio Designs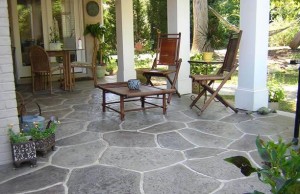 Concrete is the best solution for a patio because it will not be ruined by the pool, it is more durable, and it will maintain a nicer look for a longer period of time.
Patio designs are fun to work with and a blast to install. You might have found the most beautiful wood that you would like to use for your backyard patio by the pool. You might want to think again because wood is not the best option for a patio. This is because wood can look beautiful when you first install it but you almost always have to build a new patio within at a minimum of 5 years. This is because when the wood becomes worn it can be dangerous to you and your family. You also wouldn't want a guest to become injured either. Concrete is a safe solution and you never have to worry about it breaking and injuring someone.
Concrete can be stained to a variety of colors. You can have patio designs that look like you have marble or granite in your backyard beside the pool. The attractiveness of concrete is amazing. Many people didn't know that you can color concrete but you can. It can be many variations of colors and it can even have a gloss finish. A shiny coating over colored concrete is absolutely amazing and will make your backyard patio look like it came right out of a home magazine.
A swimming pool is the culprit for destroying many patio designs. Most people don't understand that building a wooden deck around their pool or a patio around the pool is a waste of money. This is because not only does water rot wood but chlorinated water can do its toll on wood even faster. Weather can play a big part too. If you get a lot of rain or snow then the lifetime of a wooden patio will last for only a couple of years. Concrete patio designs are built to have a longevity of many years. Concrete lasts longer than any material you can consider for a patio.